Who I Am: Kathy Norford
What I Do: VP & Media Director
The Tool: Beam Telepresence Robot
I'm one of Spawn's boomerang employees. I first worked in our Anchorage office almost 20 years ago, and then, nearly 12 years ago, I came back, this time as a remote employee working from Denver.
Media is a role conducive to remote work: After all, we spend much of our day buried in spreadsheets. But we can't — and shouldn't — be left alone on an island. Media pros need collaboration with creatives, planners, and account teams to be really successful for our clients. (Plus, we crave social interaction!)
So, the question became how could we get the best of both worlds—the chance to do our thing remotely, but also work as a real part of our teams?
Modern Office: Introducing the Beam
One of Spawn's answers (there are many!) has been adopting the Beam. It's essentially a robot that allows us a virtual presence in the office.
You've probably seen a telepresence robot before on TV. On "Modern Family," Phil Dunphy introduced many of us to virtual communication when he attended daughter Alex's graduation.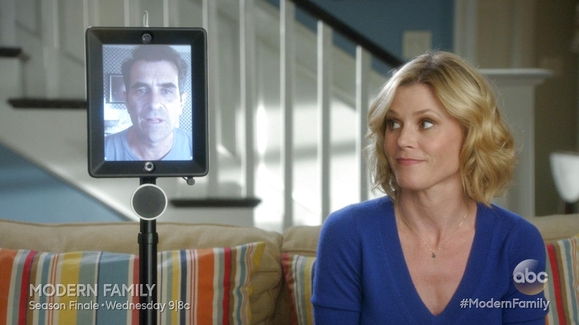 Virtual tech also allowed Heidi Klum to simultaneously judge reality shows on opposite coasts of the country.
How We Use It
And while we'll admit that it's a little funny looking, the Beam is also surprisingly effective. It goes beyond virtual conferencing tools like Skype and Zoom because it allows us to physically move around the office, and literally get face-to-face with our coworkers.
The freedom to move has transformed how we work remotely. We can log in from a laptop or smartphone and off we go – driving ourselves to conference rooms in Anchorage and pulling up a seat in any meeting. Coworkers tell us that interacting with the Beam seems much more like talking to a real person — it's more human and comfortable. It makes getting through long, detail-oriented work sessions feel more natural.
One of the things I've found most helpful is how the Beam elevates our ability to train new staff from afar. We can sit side by side with employees, available for questions in the moment, just as if we were there.
Favorite "Bonus Feature"
The Beam is silent, like an electric car, as it rolls through the office. Nearly every employee who uses the Beam reports that they've startled an in-office coworker by "sneaking up on them" before speaking.
We can only assume this is accidental 🙂
Why It Works for Spawn
Making the most of virtual tech is just one of the ways Spawn empowers the right people to do the best work together for our clients—whether they're in Alaska or Idaho, Wisconsin or Hawaii.
Want to learn more about working with us? Send us a note!